When we think of the holiday season we think festive decorations, delicious food, gift exchanges, and fun-filled gatherings! What can be better than that? A big part of spreading holiday cheer is through written words on invites, gifts, home decor, and other festive activities. There's nothing like a good winter font to make you feel extra festive! Whether it's holiday party invitations or Dear Santa letters, you'll need the best Christmas fonts for all of your holiday writing needs.
We'll cover anything and everything related to Christmas fonts, specifically the following:
Different categories of Christmas fonts and examples of each.

Good Christmas fonts for specific design projects.

Good Christmas fonts for homemade projects.

How to make a Christmas card.

Examples of Christmas designs. 
Let's dive right into the different types of Christmas fonts and examples of each available on the PicsArt app.
Classical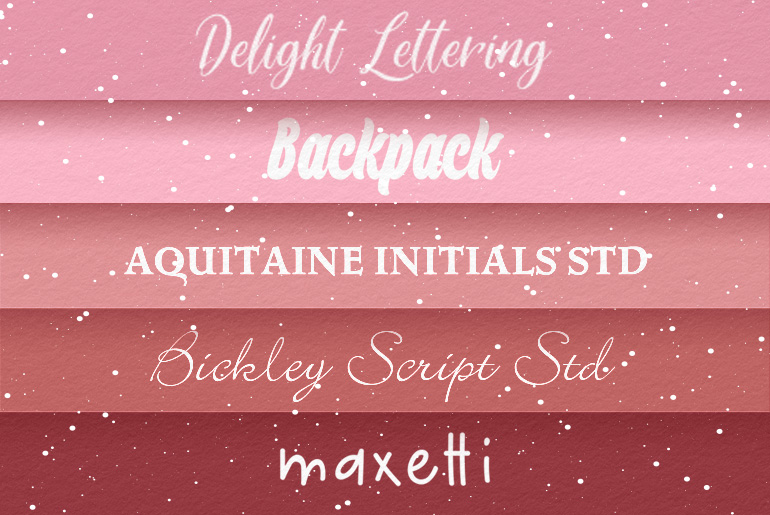 Classical Christmas fonts really make your text look graceful and refined. These handwritten fonts feel more personal and read in an effortless, fluid fashion. Check out these eye-catching classical fonts perfect for holiday cards, formal Christmas party invites, and any other holiday design you want to add an elegant touch to.

Mountains of Christmas (our favorite Christmas font!)
French Script
Fractur BT
Roundhand BT
Monterey BT
Modern
If you're looking to put a modern twist on your holidays, you'll mostly want to gravitate towards Sans Serif fonts. Take a look at our favorite modern fonts that provide a contemporary, clean design, yet still give you a touch of holiday vibes.

Avellino
Carlton Std
Bebas Neue
Stela UT
Ringer Bold
For Kids
When choosing a font for kids, you should go for big, bold, and fun typefaces that are easy to read and appealing to the younger demographic. Similar to the Comic Sans font, we suggest going for "kid handwriting" or scribble styles. Check out these super fun Christmas fonts you can use for children.

Carver ICG
Hangup
Terry Junior
Backpack
Rebus Script 2010

Festive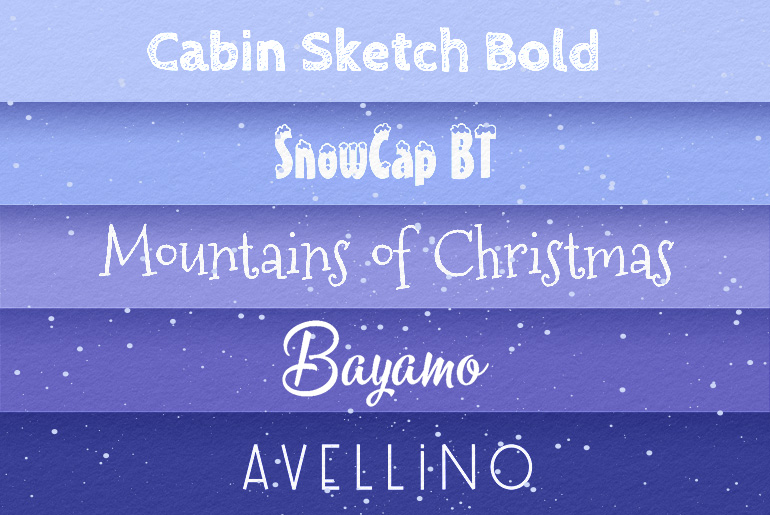 Festive might be the best adjective used to describe the holidays. When reading text with festive fonts, you're reminded of Christmas snow, Santa's sleigh and the elves, and other whimsical features of Christmas. Look at these festive fonts that will really give you holiday vibes all around.

SnowCap BT
Many Neatz
Curlz MT Std
Sunshiney
Las Enter
Christmas Fonts for Design Projects
If you're working on a specific design project for the holidays, such as a logo or a social media post, you're in luck. We curated the best Christmas fonts for your design projects.

Logo
Lakesight
Brannboll Fet
UT One
Brighton Com
Aquitaine Initials Std
Social Media
Elisa Std
Bayamo
Delius Swash Caps
Redressed
Alfie

Branding Content
Romany
Bickley Script Std
Mastoc
Core Gungseo
Libra BT
Christmas Fonts for In-House Designs
Christmas is a time to be around loved ones and celebrate the holidays with laughter and joy. It's also a busy time filled with decorating, hosting parties, and creating the holiday spirit in any way you can. If you have any upcoming homemade Christmas projects, we have the perfect fonts you can use for each occasion!
Holiday Party Invitations 
Let's say you're hosting this year's Christmas party. Whether it's a formal soiree or a family get together, the first step in party planning is creating invitations. A well thought out and beautifully designed invitation is the perfect way to provide all the important party details to your guests. The font you choose for your invites can really amplify the holiday spirit and get your guests excited for the big day!
Formal or Black-Tie party:

For a formal or black-tie affair, you want to go with an elegant calligraphy font that makes you feel fancy. Script typography is great for such occasions. We suggest trying out the following fancy fonts for your next formal holiday party invitations: Citadel Script Std, Balmoral Std, Cancellaresca Script Std, Old Fashion Script Std, Sverige Script Decorated.

Secret Santa and White Elephant:

Secret Santa and White elephant gift exchange parties are filled with laughter and surprises. You want your invitations to reflect this joyful and humorous occasion. We suggest using any of these fonts for your gift exchange party invites: Davida BD BT, Caslon LT Antique, Cooper BlkIt BT, Elefont LT, Sunshiney.



Ugly Sweater Party: Who doesn't love a good ugly sweater Christmas party? Seriously, what's more fun than getting together with friends in the ugliest winter sweaters and laughing the night away? Check out these fun fonts you can use for your next ugly sweater party: Snowcap BT, Hard Block, Deibi, JMC Engraver, Whimsy ICG Heavy.
Holiday Movie Marathon: Whether you screen "Home Alone," "A Christmas Story," or "Elf," getting together and binge-watching holiday movies is a past time favorite. These types of cozy parties really bring a nostalgic vibe to your holiday season. These are our favorite holiday movie fonts: Road Movie, Cineplex LT, CabinSketch, Denigan, Cutscript.
Holiday Charity Event


The holidays are really a time to give thanks and give to others less fortunate. If you're putting together a Christmas toy drive or a food drive, take a look at some favorite fonts to use for such noble occasions: Parisian Std, Amplify, Mountains of Christmas, Helvetica LT Std, Hope Sans.
Christmas Fonts for Children's Activities

Similar to the Kids category above, these are wonderful fonts to use for any holiday-related children's activities.

School
Maxetti
MYuppy PRC
Love Ya Like a Sister
Luckiest guy
Christmas Fonts for House Decoration
Along with putting up a Christmas tree and decorative lights, some also like to print banners and other festive decals inside and outside of the home. Check out these beautiful fonts for house decorations.

Lettering Delight
Glastonbury Std
Pennybridge 1563
Coneria Script Medium
Respective
How to Make a Christmas Card

Buying Christmas cards from the store can look generic and nobody wants that. Instead, customize and personalize your Christmas cards from the comfort of your own home! Making personalized Christmas cards at home can be a fun and creative project. Best of all, it can be a beautiful keepsake for your family and friends to look back on. There are a few things to consider when creating your own Christmas Card. 
Background
You can choose a variety of backgrounds for your Christmas card, including solid colors, holiday patterns, or even a personal photo. When choosing a solid background color, we suggest going for Christmas-y tones such as red, green, white, black, gold, or silver. 
Text and Font
You don't have to include a lot of text on a Christmas card. In fact, including one classic line and signing your name should suffice. We suggest going for the more classical or festive fonts aforementioned, or even using a combination of these typefaces with modern fonts. Some classic lines to consider in your Christmas card are:
"'Tis the season to spread love, joy, and peace. Merry Christmas."

"Wishing you a very Merry Christmas."

"Wishing you a Merry Christmas and a Happy New Year."

"

Here's to a year of blessings and beyond.

"

"Warmest wishes of the season from our family to yours."
Finish
For printable Christmas cards, you can choose to have either a matte or glossy finish. For a more professional, refined look, we would suggest going for a matte finish. A glossy finish provides a more personal and homemade touch. You may consider a glossy finish if your Christmas card is mostly made up of photos, whereas a matte finish is ideal for detailed patterns with more text.

Layout
Your layout entirely depends on the contents of your card. You can opt to have multiple photos with text, one photo with text, or no personal photos, but a Christmas design with text. The layout also depends on your preference. You can choose to place the text at the top of your card or at the bottom. Depending on the number of photos and how you lay them out, you can also place text right beside your photo(s). The general rule of thumb is to sign your name at the bottom of the card. Having a header up top and grouping your text and signature at the bottom of your card is a popular option.
So, how exactly do you make a digital Christmas Card? Open the PicsArt app, follow these easy instructions:
Tap on the plus sign at the bottom of your screen.

Upload an image, select a background, or select a Collage grid if you plan to include multiple photos in your card.

Tap on the

Text

icon at the bottom of your screen and type your text.

Select a Christmas-y font. Edit the text using Color, Opacity, Spacing, and any other tool along the bottom. 

Place your text anywhere on your image and click

Apply

on the top right.

Clicking the

Sticker

icon and search "Christmas" or any other holiday-related term. Select the sticker(s) you like and place them on your Christmas card. Remember to click

Apply

on the top right to save all edits.

Click the

Frame

icon and search "Holiday" for unique holiday frames to jazz up your Christmas card. 

Add special effects to your card with the Effects and Mask tools. 

Download or post your Christmas card to spread the holiday cheer!
If you're using PicsArt's Desktop editor instead, check out this step-by-step guide on how to create a Christmas card online. 
Open

PicsArt's Text Editor

.

Select any free image or upload or own using the top left Upload button. You can search "Christmas" or any other holiday-related term for festive pictures. 

Click on

Add

a heading,

Add

a subheading, or

Add

a body text. Then type in your text and move the text box to the desired area on your image. You can also adjust the text box size by clicking and diagonally dragging the corners of the textbox.

Click on

Font

above the image and you'll see a dropdown of typefaces you can choose from. You can also adjust for size, letter spacing, line height, alignment, caps, and the options to make your text bold, italic, or underlined. 

Next to Font, you'll find Color, Outline, and Shadow. Click into each of these editing tools and adjust your font accordingly. 

Click the

Sticker

icon. You can search for holiday terms here as well. Perhaps add a snowman or candy cane sticker!

You can always add special effects with the Effects tool on the left.

Click

Download

at the top right or Share to spread holiday cheer!
Congrats! You learned all there is to know about Christmas fonts. Whether it's choosing fonts for different types of holiday parties or creating your own Christmas card, you have all the Christmas font knowledge you need to get started. Get fun and festive with your designs and enjoy the holiday season!
PicsArt all-in-one Photo and Video Editor, Collage, and Sticker Maker is the world's largest creative platform with over 150 million monthly active creators and influencers. PicsArt has collaborated with major artists and brands like Taylor Swift, The Jonas Brothers, Gwen Stefani, Maroon 5, Lizzo, Meghan Trainor, One Direction, MONSTA X, Warner Bros. Entertainment, iHeartMedia, Condé Nast, and more. Download the app today to level-up your photos and videos with thousands of quick & easy editing tools, trendy filters, fun stickers, and brilliant backgrounds. Unleash your creativity with PicsArt and upgrade to Gold for awesome premium perks!
The post 20 Good Christmas Fonts: For Designer and Homemade Projects appeared first on Create + Discover with PicsArt.