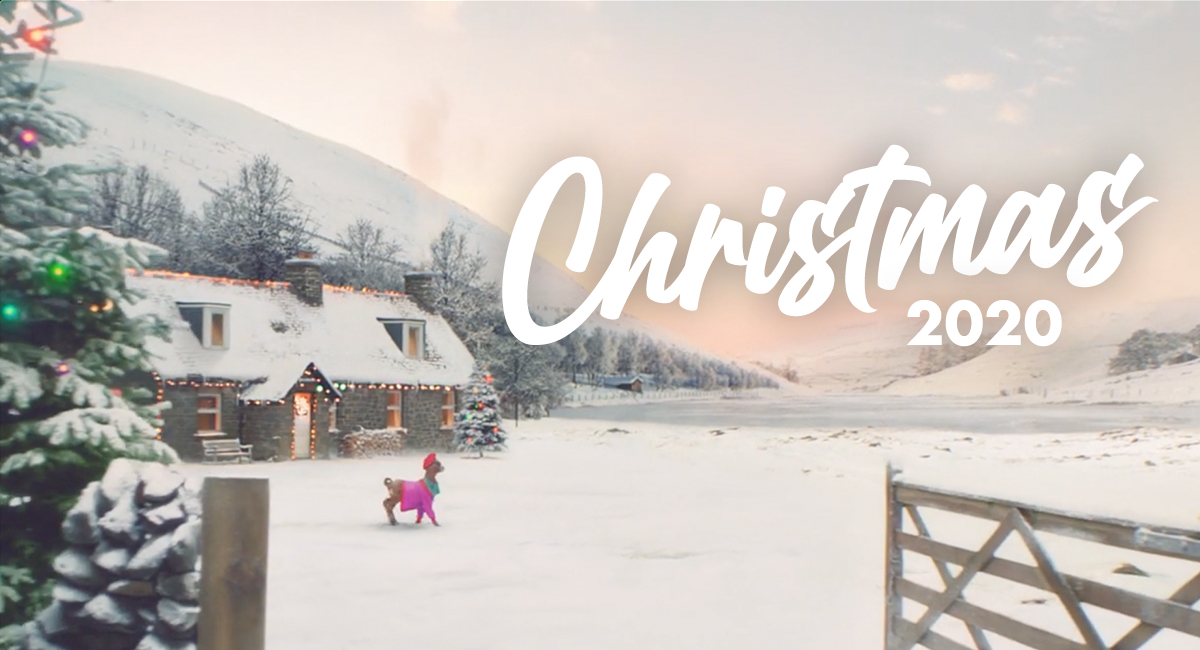 A special year for

Christmas ads.
As 2020 has been a difficult year for everyone around the world, there are also some challenges for marketers regarding their 2020 Christmas ads: these commercials bringing every year a lot of emotions to us, from smiles to tears. This 2020 festive season is indeed like no other. As you will see below in this subjective shortlist of the "most creative adverts" according to me, some brands have decided to completely avoid referring to the pandemic, some made clever nods to it (without dwelling on it too much), while some are openly playing with this unique context…
Have a look at the 7 (so far!) best commercials of Christmas 2020 below: Aldi, Amazon, Kmart, LEGO, Pepsi, TK Maxx, Very… Then let me know in the comments which one is your favorite and why! 
5 trends for the 2020 Christmas ads 
Compared to previous years (we're sharing this shortlist every year since 2012), from the commercials which are already revealed we can clearly observe that in the 2020 Christmas commercials there is: 
More distanciation: less hugs, less kisses, less big family meals and big reunions.
More animations: because there have been less in real life shootings possibilities.
Less "blockbusters" ads: as brands' budgets are smaller, productions tend to be simpler, or at least their commercials look far less bling, far less glitzy.
Different expectations: according to a poll by Truman Films in the UK, this year the public will favour "real stories over big-budget" campaigns, which is coherent with brands' capabilities.
Bigger audiences: as people might spend more time online and in front of their TV than previous years (because of current lockdowns in many countries), they might scrutinise these campaigns, waiting for this yearly dose of entertainment.
Aldi – Peel the Need 
Kevin the Carrot is back! This year, Aldi's famous character flights with "Lieutenant Turkey", before he gets ejected from the cockpit… A nice Top Gun like teaser to the official commercial which will be released in a few days. Agency: McCANN London. 
Amazon – The Show Must Go On 
Among the first global brands to reveal their 2020 Christmas ad, Amazon shares a story of hope in the face of pandemic adversity. As we must learn to live with the virus, this commercial shows the challenges and despair we all know this year, with a bit of joy and optimism, starring the French ballet dancer Taïs Vinolo. Agency: Lucky Generals. 
Kmart – Christmas 
Celebrating the simple joy of small moments, the Australian retailer Kmart shows a little girl gifting her family via her remote controlled car, which is quite smartly Covid-19 compliant. Agency: DDB Melbourne. 
LEGO – Rebuild The World 
"What a wonderful world" might not be our first thought when looking back at this year we've been through, but still this is the song LEGO is betting on for its 2020 Christmas ad, celebrating children's unlimited power of imagination. Agency: made internally.
Pepsi MAX – Refresh Your Christmas 
Without any reference to this tough year, Pepsi MAX wants to break the clichés and traditions around Christmas, with a short rap song from the two English rappers Kamakaze and TrueMendous. Agency: made internally.
The ads making the best of a bad year.
TK Maxx – The Lil' Goat 
According to TK Maxx, "after the year we've had, everyone deserves to feel special this season, and that includes everyone in our lives, even pet goats." A weird commercial which celebrates the act of gift-giving and generosity. Agency: Wieden + Kennedy London. 
Very – Christmas is this Very Moment
"Expectations vs reality": the fashion retailer Very pokes fun at our Christmas preparations, with a super concrete and realistic approach of the festive season. We must agree with the brand, Christmas is much more than only one single day. Agency: Grey London. 
This article will be updated every day until Christmas day!
L'article Christmas 2020: the 7 best commercials est apparu en premier sur LLLLITL.