[Click here to view the video in this article]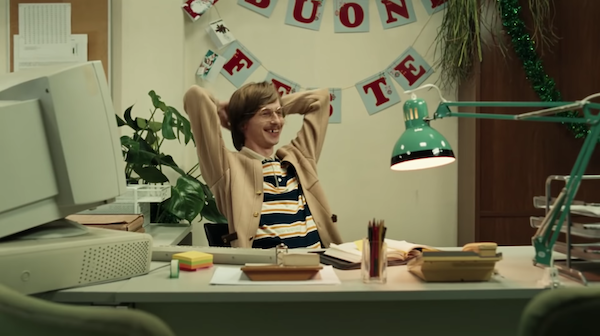 Video screenshot via Gucci
Despite its vintage and opulent designs which can come across as kitschy sometimes, Gucci has managed to propel itself to be among the most current and most valuable luxury brands in the world.
Celebrating while poking fun at its showy aesthetics, the fashion house has released a witty holiday commercial that places its garments and accessories in an office Christmas party from 1994, 26 years ago.
Set to Yazoo's 1982 Only You, the ad produced by London-based moving image artist Akinola Davies Jr. showcases models in dated haircuts, oversized glasses, and over-the-top outfits getting ready for a festive bash at the workplace.
Ahead of the party, employees end their work day by clicking "Quit" on their Windows-like computers. Later, there's small talk by the photocopy machine, where copies of the GG Marmont shoulder bag are printed. The staff also gather for some karaoke and dancing.
As one Instagram user aptly puts it, the amusing Gucci Gift spot is akin to "The Office, but make it Gucci." Watch it below.
A post shared by Gucci Official (@gucci)
A post shared by Gucci Official (@gucci)
A post shared by Gucci Official (@gucci)
A post shared by Gucci Official (@gucci)
A post shared by Gucci Official (@gucci)
[via B&T, video and cover image via Gucci]
NOS CUENTAN + AQUÍ