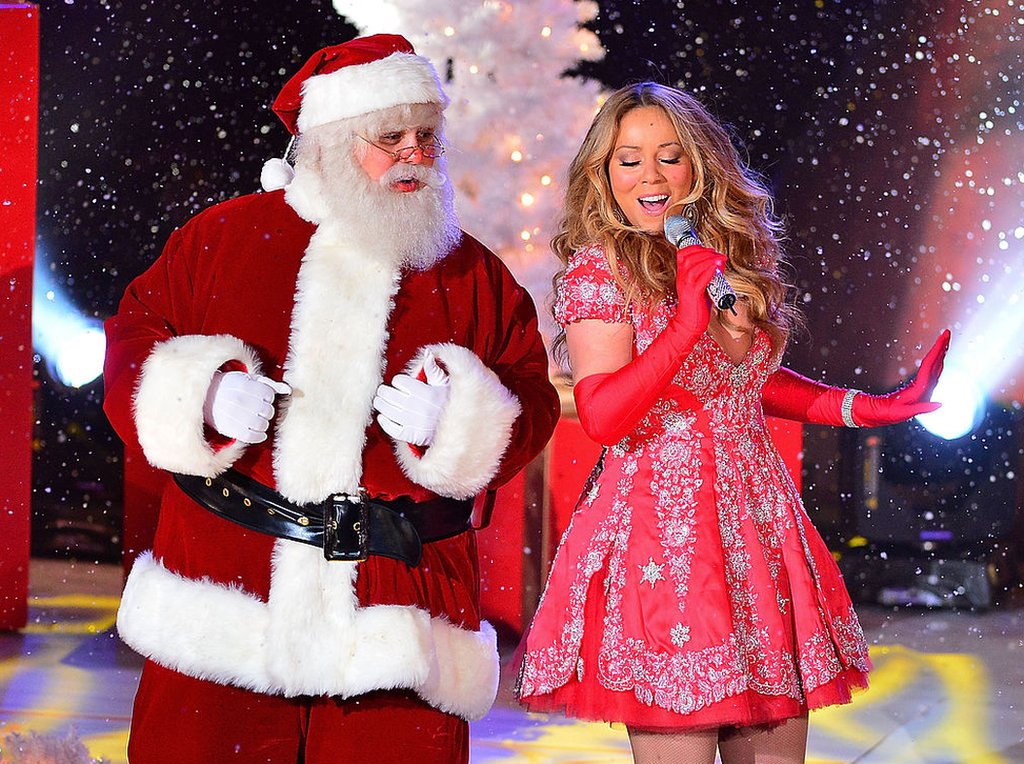 Getty Images
The UK is getting into the Christmas spirit earlier than ever, judging by the music we're buying and streaming.
Mariah Carey's festive hit All I Want For Christmas Is You returned to Spotify's Top 40 last Sunday – a full two weeks earlier than three years ago.
The song also reappeared on the iTunes chart on 2 November, and is currently among the UK's Top 50 downloads.
Carey is expected to re-enter the UK's official chart on Friday. The song is already at 63 in the midweek countdown.
A re-entry would give All I Want For Christmas Is You its 100th week in the top 100, and mark the song's 14th consecutive year on the chart.

The return of Carey's hit is a bellweather for the start of Christmas season.
Behind her in the Spotify chart are six more Christmas songs, including The Pogues' Fairytale of New York and Michael Bublé's It's Beginning To Look A Lot Like Christmas. Between them, the songs have more than 500,00 daily plays.
However, the UK lags behind countries like Estonia and Iceland, where listeners start shuffling their Christmas playlists in October, according to Spotify data.
They are all beaten by The Philippines, where Christmas music accounts for 2% of all songs streamed by early September.
Listeners in Lichtenstein, meanwhile, are the most ardent consumers of seasonal songs. In the last few days before 25 December, almost 70% of all listening is exclusively Christmas music – triple the global average.
The UK puts up some stiff competition, though. Not only are we listening to festive hits earlier every year, but Magic Radio launched its 100% Christmas station in August due to consumer demand.
Not to be outdone, Amazon Music has just released a stocking-full of exclusive Christmas songs on its streaming service, with Justin Bieber covering Rockin' Around the Christmas Tree and Mary J Blige taking on Wham's Last Christmas, amongst others.
Can LadBaby score a third number one?
The race for the Christmas number one is also shaping up, led by Children In Need's charity cover of Oasis' Stop Crying Your Heart Out.
The all-star song features vocals from Cher, Kylie, Robbie Williams, KSI, Ava Max, Jess Glynne and Bryan Adams, amongst others, with the video set to premiere during the Children In Need telethon on Friday.
BBC Sound of 2020 winner Celeste is also vying for a festive hit, after soundtracking the John Lewis Christmas advert with her new single, A Little Love.
Inspired by the kindness shown by the British public during lockdown, it is the first original song (ie non-cover version) to feature on one of the retailer's adverts. Proceeds will go to the charities Home-Start and FareShare.
For the last two years, YouTube personality LadBaby has topped the festive charts with pastry-themed cover versions like I Love Sausage Rolls and We Built This City (On Sausage Rolls).
The star, who donates his earnings to the Tressell Trust food charity, hasn't announced his plans for 2020. If he scores a third consecutive Christmas number one, he will equal a record set by The Beatles, who were the stars atop the festive countdown in 1963, 64 and 65.
Speaking to Radio 1 last year, LadBaby said he would only attempt a third record if the right idea came along,
«I don't want it to become a joke,» he said. «It needs to still be funny and it needs to still be right. I don't want people to start boycotting it next year if we go for it.»
How Mariah wrote her classic
But Mariah Carey's All I Want For Christmas Is You is the gift that keeps on giving.
First released in 1994, it's an upbeat, catchy tribute to the Christmas hits of Motown and Phil Spector. A top three hit on both sides of the Atlantic, it quickly became a standard, with the New Yorker calling it «one of the few worthy modern additions to the holiday canon».
After selling more than 16 million copies, it finally topped the US charts last year, on its 25th anniversary, making Carey the first artist to score a number one single in four different decades.
«We did it!» exclaimed the star on Twitter, adding emojis of a crying face, a heart, a lamb, a Christmas tree, and a butterfly (her signature), for good measure.

Carey co-wrote the song with longtime collaborator Walter Afanasieff, who originally worried it was too basic. But that's exactly the quality that has made it such an enduring hit.
Writing in her memoir, Carey said the song's opening chimes are meant to evoke the «little wooden toy pianos, like the one Schroeder had on Peanuts».
«I actually did bang out most of the song on a cheap little Casio keyboard,» she added. «But it's the feeling I wanted to capture. There's a sweetness, a clarity and a purity to it.»
Although she was unhappy at the time, dealing with the pressures of fame and a tempestuous relationship with her future husband Tommy Mottola, she wanted to «write a song that would me me happy and make me feel like a loved, carefree young girl at Christmas».
«I wanted to sing it in a way that would capture joy for everyone and crystallise it forever,» she added. «Yes, I was going for vintage Christmas happiness.»