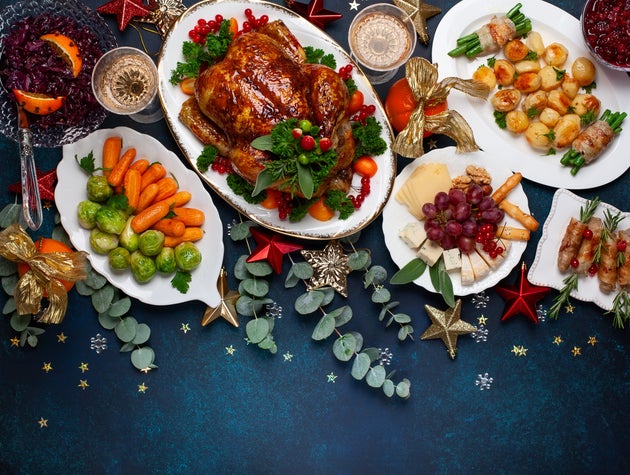 If you're scratching your head over where to buy your big Christmas food shop this year, the ultimate taste test of Christmas puddings, mince pies, pigs in blankets and more has just dropped. 
The results of Good Housekeeping's annual Christmas Taste Test have been revealed – with Marks and Spencer and Waitrose & Partners crowned the joint best supermarkets to shop at.
M&S nabbed the top spot in the Christmas pudding, gravy and frozen turkey and crowns categories, while Waitrose came out on top in the Christmas cake, champagne and yule log categories. 
Related…
Each year, Good Housekeeping Institute taste experts get together with a well consumer panel to test products. They tried 423 products this year, scoring on  factors including appearance, aroma, flavour and texture. Here are the winners.
Best frozen turkey 
M&S, British Stuffed Oakham Turkey Crown (£28 for 2kg).
Scored 92/100 thanks to its smoky bacon-wrapped turkey crown and its sweet onion and sage stuffing.
The runner up was Aldi's Specially Selected Stuffed Turkey Crown, £17.99 for 1.8-2.3kg.
Best meat-free main
Lidl's Caramelised Onion & Goat's Cheese Tartlets (£1.69 for 2x120g).
The tartlets, which are suitable for vegetarians, scored 82/100 thanks to their winning combo of flakey, buttery puff pastry, creamy goat's cheese and sticky, caramelised red onion.
An honourable mention goes to Waitrose's Vegan Festive Swirls (£6.99 for 480g) the top choice for vegans, scoring 79/100 thanks to their mix of caramelised tomatoes, red peppers, spinach and herbs inside a golden filo pastry case.
Best pigs in blankets
Farmison & Co Luxury Chestnut, Sage & Apricot Pigs in Blankets (£7.95 for 300g).
Scored 86/100 from testers who were impressed with the flavour of the tender pork sausages wrapped in crispy salty bacon with hints of apricot and sage.
The runner up was M&S British Outdoor Bred Pork 12 Pigs in Blankets wrapped in Oak Smoked Bacon, (£3.50 for 282g).
Best gravy
M&S Cook with Onion Gravy (£2 for 350g).
Once again M&S came out on top, with a score of 81/100 for its gravy. Softened slices of onions in a rich and meaty stock proved popular with testers.
The runner up was Aah! Bisto Onion Gravy Granules, (£1.50 for 170g). 
Best mince pies
Costa Coffee All Butter Mince Pies (£2 for one mince pie).
In an interesting turn of events, the best mince pies came from a coffee shop, not a supermarket. Costa's pies scored an impressive 90/100 and were praised for their crispy, golden pastry and zesty citrus filling with a mixed spice flavour.
Iceland's Luxury 6 Mince Pies (£1.89 for a pack of six) followed closely behind with 87/100.
Best gluten free mince pie
Costa Coffee Gluten Free Mince Tart (£2 for one mince pie).
Scored 73/100 and testers loved the melt-in-the-mouth pastry – as an added bonus, this mince pie is also vegan-friendly.
M&S Made Without Gluten Free 4 Mince Pies, (£2.50 for 205g), was the runner up.
Best traditional Christmas pudding
M&S Vintage Christmas Pudding (£15 for 800g).
This hearty pud scored 92/100. Testers loved the fact it was deeply rich and packed full of juicy vine fruits, Christmas spices and booze-soaked nuts.
The runner up was Daylesford Organic's Traditional Christmas Pudding, (£20 for 900g).
Christmas pudding with a twist
Sainsbury's Taste the Difference Salted Maple & Pecan Christmas Pudding (£6 for 400g).
Scored 86/100 for its irresistibly nutty salted caramel-like sauce with sweet yet tart vine fruits.
The runner up is M&S's Collection Chocolate & Orange Pudding, (£12 for 700g). 
Dessert centrepiece 
Morrisons The Best Chocolate Orange Pudding (£6 for 500g).
It scored 86/100 for its moist and light sponge, gooey chocolate centre, and fresh orange flavour.
There were two runners up, both with 82 points: Aldi Specially Selected Golden Twist Sticky Toffee Pudding, (£5.99 for 700g), and Co-op Truly Irresistible Fully Loaded Billionaires Dessert, (£6.00 for 600g).
Best supermarket own-label Champagne
Waitrose Blanc de Noirs Brut NV Champagne (£23.99 for 75cl).
The beverage impressed the panel with its smooth bubbles and beautifully balanced, rich and fruity flavour – it scored 84/100.
The runner up was Aldi's Veuve Monsigny Champagne Brut, (£12.69 for 75cl).
Supermarket own-label Prosecco
Ocado's Abbazia Fiorino Prosecco d.o.c. (£9.99 for 75cl).
This easy drinking prosecco has a juicy pear and baked apple flavour with fine, lively bubbles and a smooth finish. So it's no wonder it scored an impressive 90/100.
Aldi's Organic Prosecco (£7.99 for 75cl) came in second place.